Our projects meeting was opened on August 13, inTokyo.
Date:August 13, 2016 14:00~17:00 
Venue:Tokyo International Forum  G602                 
Turnout; about 40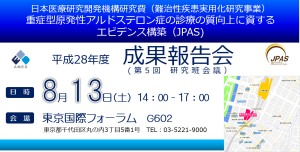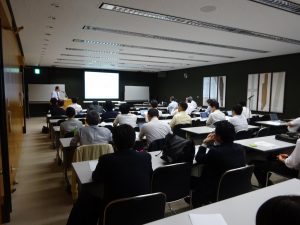 2016年08月31日
Patient Support Book
Email: brown(at)pheopara.com
2016年07月19日
Added The Consensus Statement Page on this home page.
Plese see PA site!
2016年06月22日
The PA Consensus Statement is rinked to JES Home Page.  (JES menbers only)
2016年06月20日
Added The PHEO Patients Home Page rink.
Plese see "Links"!
2016年05月25日
Added The Clinical Research Institute for Endocrine and Metabolic Diseases Kyoto Medical Center, National Hospital Organization
Home Page rink.
Plese see "Links"!
2016年05月24日
Added " Secretariat Adrenal Diseases Projects"  at Contact Page.
Please See the page!
2016年05月12日
Updated Reseach Projects, please check out these pages!
2016年05月11日
 Our projects home page released!
Check it out now!!!
2016年03月30日